"Did I do that?"
Sorry for the wait, I wanted to get this page right, and I've been busy with a few other things, including, but not limited to, an Otherknown-themed holiday card that I will be mailing out to anyone who follows me on
twitter
and
fills out this form!
It's free and it's open to anyone who likes the comic as my way of saying "thank you"! I'm still a small fry and I can afford to do this for right now. :) Here is a very small preview of the card, which is full color and features AT LEAST! ten characters, and many shenanigans: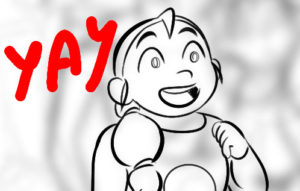 If you do not use twitter at all and would still like a copy of the card, email me at theloralora at gmail with your name and address, and maybe tell me one small thing you like about the comic so I can make sure these are all going out to fans :) Later on this month, I'll post the full version online so everyone can see it.
One last thing - the next update will either be Wednesday OR next weekend. We're nearing the end of the chapter at long last and I want to give myself some extra time for both these last few pages, and the aforementioned other things. Thank you!