wow!! what a weird shape for a friend!!!! But a friend shape nonetheless
who is this?? An... alien... robot... guy......?? It doesn't look much like Sweeps (or the wonder twins) does it. I hope you'll stay tuned to see what's in store!
Also, IT'S OTHERKNOWN'S THIRD BIRTHDAY! YES! TODAY AS IN THIS DAY!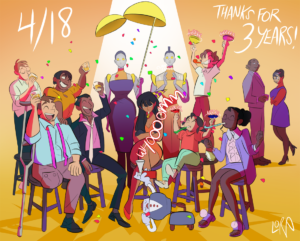 That's right, everyone is having an uproarious party and you are invited too. Just don't blow any more airhorns in Aja's face, she is not about this life.
I'm so happy to be here still wrapped up in this story as much as I was at the start. Thanks so much for your support and readership, comments and shares. It really means a lot!
(Also on the subject of this page: if you like my comic and have a dollar to spare every month, consider pledging to my
Patreon
! We'll be learning more about this fella very soon. $3 patrons will get to see those ~endless design iterations~)